Precision Devices, Inc. INDI-AC Dimensional Gaging Systems
The precision gaging amplifier (PGA) is a solid state, compact, and easy to use unit for obtaining dimensional gaging measurements. The PGA is used in conjunction with a stationary gage head where the part to be measured is placed under the gage head and manually moved to make the measurement. The amplifier applications include surface plate work, run out, height gage indicator, size variation, and set-up verification.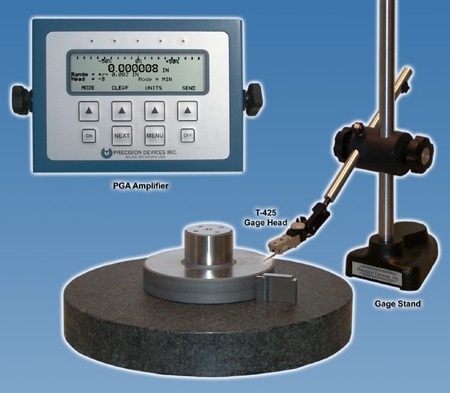 Download Indi-AC Dimensional Gaging Components PDF


For ease of operation, a visual indication can quickly be obtained by setting measurement limits for the LEDs located across the top of the unit. The LEDs limits can be set to determine whether a part is within tolerance, close to the limits set, or out of the tolerance range. The PGA utilizes a large display and menu driven software that is both self-explanatory and prompts the user through set-up and measurement screens. Additionally, rear panel ports provide both serial data and analog voltage outputs for driving auxiliary devices.
The PGA amplifier has many features and functions that allow configuration of the amplifier and display of the measurement data in different formats depending upon the application. These features not only make the amplifier easy to use but provide excellent resolution for precise measurements.
Display
240 x 64 pixel graphical LCD display.
Software adjustable display contrast settings.
Concurrent display of bar graph, numerical value, head (transducer) configuration, range, etc.
Selection of displayed values in inches or millimeters (mm).
Transducer Inputs
Single channel (PGA-210) or Dual channel (PGA-220) versions.
LVDT-based gage heads. (See Optional Accessories Available for models)
Gage head maximum range: ± 0.02 inches (± 0.5 mm)
Data Functions
Reads heads A, B or both on PGA-220. Head A only on PGA-210.
Independent polarity configuration for head(s).
Display of ACTUAL, MIN, MAX, FIM (full indicator movement) or AVERAGE readings. FIM may be referred to as TIR (total indicated reading).
Single key zeroing of ACTUAL head readings.
Single key clearing of MIN, MAX, FIM and AVERAGE data.
Other Functions
Calibration wizard for electronically calibrating each gage head using stepped height changes.
Calibration wizard for calibrating the analog output.
Storage of all settings for up to four users or part configurations.
Optional Accessories Available
A typical gaging system consists of the PGA amplifier, a height stand, gage head. If these accessories are needed to set up your system, your representative at Precision Devices should be contacted. The following accessories are available for your system:
Stylus Tips (for T-425)
T-425 LVDT Gage Head (cables are attached)
T-504A Cartridge Gage
Gage Stand - 18 inch, 24 inch or 36 inch heights
Power cord for 220-250 volts, 50 Hz.
Analog Meter
Stylus Tips (For T-425): CPTK-A Tip Kit contains six (6) tips
CP-320
1/8" Dia.
Carbide
CP-321-2XA
1/16" Dia.
Carbide, 2X lg
CP-321
1/16" Dia.
Carbide
CP-321-Z
1/16" Dia.
Carbide, Z form
CP-321-SA
1/16" Dia
Sapphired Ball
CP-322
1/32" Dia.
Carbide
Model T-425 Gage Head
Gage Tip
Tip Length "A"
Clearance Length "B"
Gaging Force
Gaging Range
1X (Std)
2X
0.840"
1.680"
0.900"
1.436"
0 to 0.5g
0 to 0.3g
± 0.020"
± 0.040"
Model T-504A Cartridge Gage
Gage Tip
Gaging Force
Gaging Range
5/32" Dia. Carbide Tip with #4-48 male thread
51g (at null position)
0.040"
Height Stands
| | | |
| --- | --- | --- |
| GS-1810 | GS-P-2412 | S-1311-S3 |
Part Number
Description
4670-FA
GS-1810 18" Height Stand (Ref. 71001194)
Base dimensions: 6.2" x 5.0" x2.5"
(159 mm x 127 mm x 64 mm)
Vertical capacity: 18" (457 mm)
Crossarm type: Rotating
Crossarm adjustment: 5.5" (140 mm)
Overall height: 19" (483 mm)
Weight: 14.5 lbs (6.6 kg)
4650-FA
GS-P-2412 24" Height Stand (Ref. 71001199)
Base dimensions: 7.0" x 6.0" x 3.0"
(178 mm X 152 mm X 76 mm)
Vertical capacity: 24" (610 mm)
Crossarm type: Positive Drive
Crossarm adjustment: 11.0" (279 mm)
Weight: 30 lbs. (13.6 kg)
5178-FA
36" S-1311-S3 Special Height Stand
(Ref. 70156938)
Same specification as the GS-GS-P-2412 above except with a height of 36"
PGA Specifications
Parameter
Specification
Range Settings:
Bar Graph and Analog Output
inches
mm
± 0.00002
± 0.0005
± 0.0001
± 0.0025
± 0.0002
± 0.005
± 0.001
± 0.025
± 0.002
± 0.05
± 0.01
± 0.25
± 0.02
± 0.5
Numerical Display
up to ± 0.04
± 0.9999
Output Resolution:
Bar Graph Display
0.83% of selected range
Analog Output
0.024% of the selected range
Numerical Display
0.000, 001 inch (0.000, 01 mm)
Bar Graph Display Output:
Nominal ± 100% proportional to gage head input
Analog Output:
Nominal ± 5 volt proportional to gage head input
Limit Indicator Outputs:
Indicators (LED)
Out of Range -
+ and – Red
Caution -
+ and – Yellow
Good -
Green
Range Limit Settings
Independent
+ and –
Adjustable Cautionary Settings
Percentage of out of range settings
RS232 Output:
Output
Displayed numerical value
Baud Rate Settings
300, 600, 1200, 2400, 9600, 19200, or 38400
Parity Settings
NONE, EVEN, ODD
Line Termination Settings
NONE, CR, LF, or CR + LF (CR = carriage return, LF = line feed)
Line Labeling Settings
NONE, UNITS, FUNCTION, or BOTH
Hardware Handshake
ENABLE or DISABLE
Power Requirements:
Amplifier Input
5 volts DC at 2.0 amperes
Power Pack Output
5 volts DC at 2.5 amperes
Power Pack Input
100 - 250 volts AC at 0.4 amps, 47-63 Hz
Environmental:
Operating Temperature Range
50° - 90° F (10° – 32° C)
Storage Temperature Range
30° - 110° F (-1° – 43° C)
Relative Humidity
10% - 90% non-condensing
Power Requirements:
Amplifier Input
5 volts DC at 2.0 amperes
Power Pack Output
5 volts DC at 2.5 amperes
Power Pack Input
100 - 250 volts AC at 0.4 amps, 47-63 Hz
Physical:
Dimensions
(excluding handle)
9.25" x 6.25" x 2.5" (L x W x D)
23.5 cm x 15.9 cm x 6.4 cm
Weight
4 lbs. (1.8 kg)