Indi-Ron GT System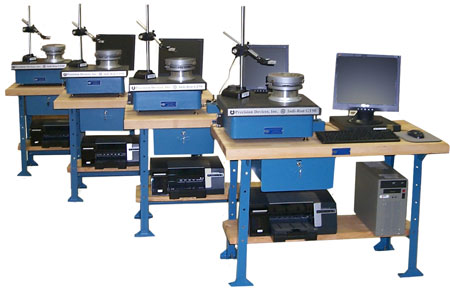 Download Indi-Ron GT 50 Top Roundess PDF


Portable / Bench Top Indi-Ron GT shown with optional table.
Roundness (application based) software operated under Microsoft Windows XP with a high resolution flat panel LCD monitor.
Gaussian with selectable Undulations per Revolution (UPR) of 1, 1.67, 5, 50, 150, and 1500.
Dual Trace Capability.
Components of the system are a portable bench top unit, including precision spindle, mounted on a 16" x 20" granite surface plate, variable speed motor drive, Type CT 8 Centering Table (2-axis non-tilt).
The system's versatile 18" height stand permits easy measurement of part features, and a high quality granite surface plate provides an accurate datum around an 8" centering table.
Accuracy
Air spindle accuracy of ±3 microinches (±0.0762 micrometer) at worktable level, radially and axially, positive coning error not exceeding 2 microinch/inch (.051 micrometer/cm) above the table.
Powered by PDI's Roundness software the instrument will measure out-of-roundness by four different methods as described by ASME B89 National Standard.
Minimum Radial Separation (MRS)
Least Squares Center (LSC)
Minimum Circumscribed Circle (MCC)
Maximum Inscribed Circle (MIC)
Specifications
| | |
| --- | --- |
| Surface Plate: | Granite, inspection grade, 20" (508mm) by 16" (406mm) deep x 2" (51mm) thick. |
| Weight: | 120 lb (54.4 kg) |
| Weight Capacity: | 50 lb (22.7 kg) balanced load. |
| Part Size Capacity: | To 20" (508 mm) diameter. Length limited only by weight and balance. |
| Height Stand: | 20" (457 mm) freestanding gage stand (standard) |
| Supply Voltage: | 115vac (±10%) 60 Hz (±0.1%) |
| Ball Spindle Accuracy (optional): | Ball Spindle Accuracy (Standard): ±5 microinches (±0.127 micrometer) at worktable level, radially and axially, positive coning error not exceeding 2 microinch/inch (.051 micrometer/cm) above the table. |
| (standard) Air Spindle Systems Only: | Require clean, dry, instrument quality air: oil content not to exceed 25 parts per million, water content less than 10°F (-12°C) dew point at atmospheric pressure, foreign particle size less than one micrometer. Air Consumption: 0.15 scfm to 1.5 scfm depending upon spindle. |
| Drive System: | Gear driven variable speed |
| Rotation Speed: | 1, 2 or 4 RPM (60Hz) |
| Work Table: | Centering Table, 8" (203mm) diameter, with 2-axis mechanical centering adjustment. Optional Spherical Seat Tilt Base, 8" (203mm) diameter, with 2-axis mechanical tilt adjustment. |
| Input Transducer: | T-425 Gage Head, lever type, with 1/16" (1.6mm) diameter carbide ball tip, built-in fine adjustment. Gaging force reversible, adjustable up to 3.0 grams per 0.010" (.025mm) travel. Gaging range ±. |