Welcome to Precision Devices, Inc.
Precision Devices, Inc. products and services, include Surfometers, exclusive Ball-Ring Arbors and Chucks, Height Test blocks, Special Gages and Profilometer® repair, are used by major industries throughout the U.S.
Many of the PDI products have been developed to fill special customer requirements. PDI special designs have given industry much needed ways of checking and inspecting parts that had not been offered before. PDI responds quickly to customer needs and will work with you to design and develop quality control and inspection products to meet your specific requirements.
PDI has the facilities, high tech equipment and highly trained personnel to work to the precise standards required in the quality control field.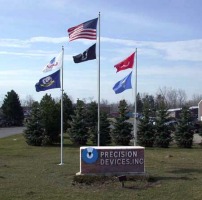 Founded in 1971 by engineers Tom Preston and Joe Kormos following a plant layoff, PDI today has over 21,000 square feet of floor space and five acres of land to provide room for expansion.
We are located close to a major airport, rail and interstate highways and have all pick-up services for emergency deliveries. A demonstration and conference room is available to you to inspect PDI products in action and to provide sample checks of your parts.